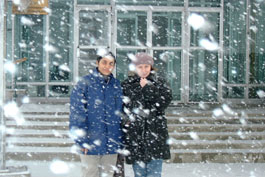 I was little nervous before reaching Chernogolovka, a new language I do not know, new people I do not know. But as soon as I landed the warm welcome at the airport gave me a calm soothing feeling. I started to feel growing confidence and by the time I reached Chernogolovka I was confident that things will happen in a good way only.
The scenic beauty of Chernogolovka with tall trees in the forest covered with full of snow all over was looking marvelous. As if a new bride is dressed up for her wedding in white gown. At Chernoglovka, there is no rush, no traffic jam, one can have a very peaceful life. A very suitable place for study and research.
At ISMAN, the working environment is very friendly. The technological aptitude at ISMAN is excellent: a few very good analysis facilities and excellent equipment for SHS synthesis. The working environment has no tension, no hurry. One thing was remarkable that many of the instruments are indigenous and they function in a superb way.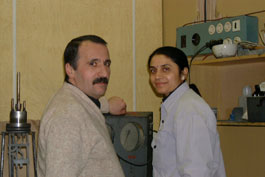 Above all, the most which I admire is the attitude of the people. Not only during experiments but also outside the institute, at rest time. Everyone was so friendly that the language barrier did not exist. We joked together, shared thoughts together, knew each other customs. Spending time on dinning table for hours on holidays was very common. The food habits, though different than mine. Was not much of problem. The vegetable soups and different salads were very delicious.
At last I deeply regard the people whom I met at Chernogolovka right from the hotel to the Institute. I loved their behavior and it proved that we may be from any part of the world but first we are human beings. Our behavior can break any barrier of language, culture, food habits, traditions, climate. I hope I will visit this place many times in future. I wish an all good fortune to ISMAN and Chernogolovka. Do svidania!
Special thanks to: Prof. Merzhanov, Prof. Mamyan, Dmitrii Belov, Maria Rusanova, and Dr. Barinov.
Suman Kumari Mishra (Pathak)